Signature Sports Flooring is now part of
ICP Building Solutions Group!
Signature Sports Flooring provides indoor flooring solutions – including cushioned, liquid applied, and mat systems – that are ideal for use in gym floors, weight rooms, aerobic rooms, multi-purpose, locker rooms and common areas.Together with the California Sports Surfaces brands, our portfolio of Sports flooring solutions is greater than ever.
Continue Reading
Global Manufacturer of Sports & Recreational Surfaces
The world's most recognized athletes all have something in common — us.
From professional tennis and basketball players to Olympic athletes and skateboarders, California Sports Surfaces has provided the stage for some of the world's most thrilling competitions.
Back in 1953, our passion for sports led to innovation. A team of researchers created a breakthrough technology that completely revolutionized the surface of many popular sports. The invention: a durable, more comfortable platform designed to enhance athletic performance and promote more fluid game play. Today the California Sports Surfaces brand is known as the leader in sports surfaces. Our colorful coatings and multi-layered, cushioned surfaces are versatile, durable (resilient to degradation from extreme heat, extreme cold and ultraviolet light) and require very little maintenance. Unlike traditional surfaces, there is no watering, combing or regular grooming necessary. Even if you aren't familiar with our company, you're likely already familiar with our products. We proudly serve all sports — professional, collegiate, recreational and even residential use with tens of thousands active installations throughout the world.
Building Dreams to Fit All Budgets
Every sport. Every budget. There are no limits in bringing your vision to life. California Sports Surfaces' family of products offers scalable solutions — from refreshing an existing installation with a vibrant coating to building competition-ready ITF classified court surfaces from scratch. Our advanced technology provides more safety for athletes, more consistent game play and more unmistakable style with custom color options.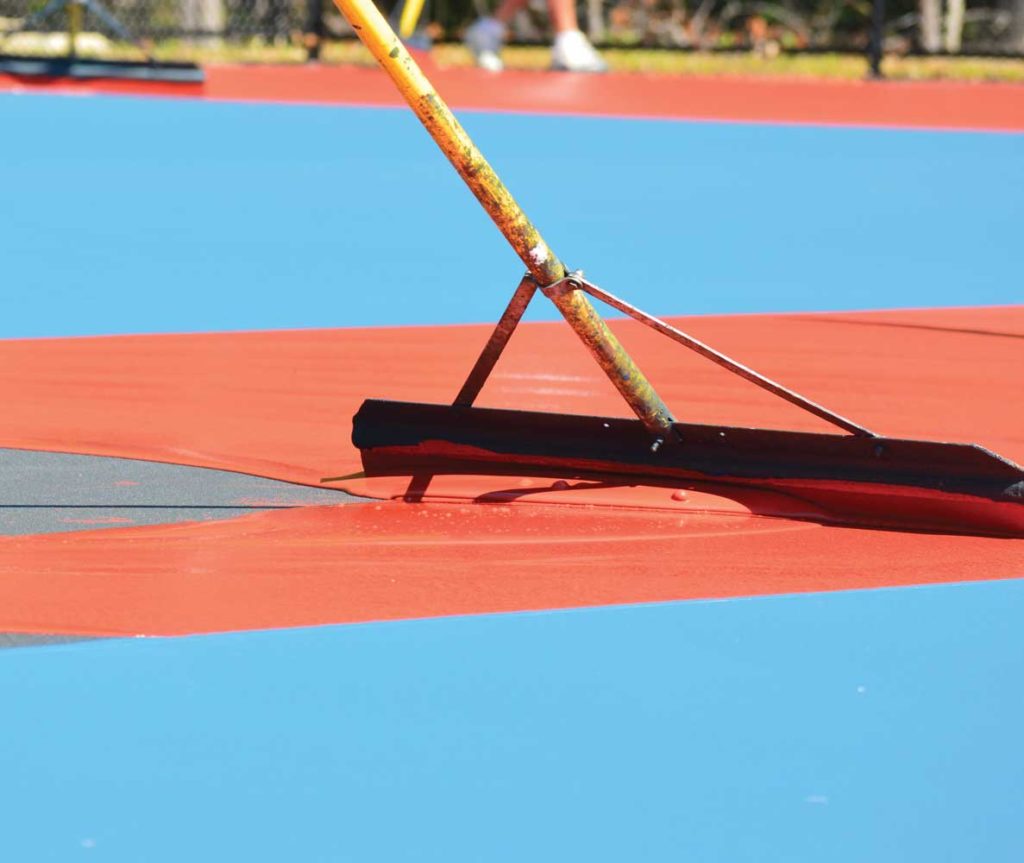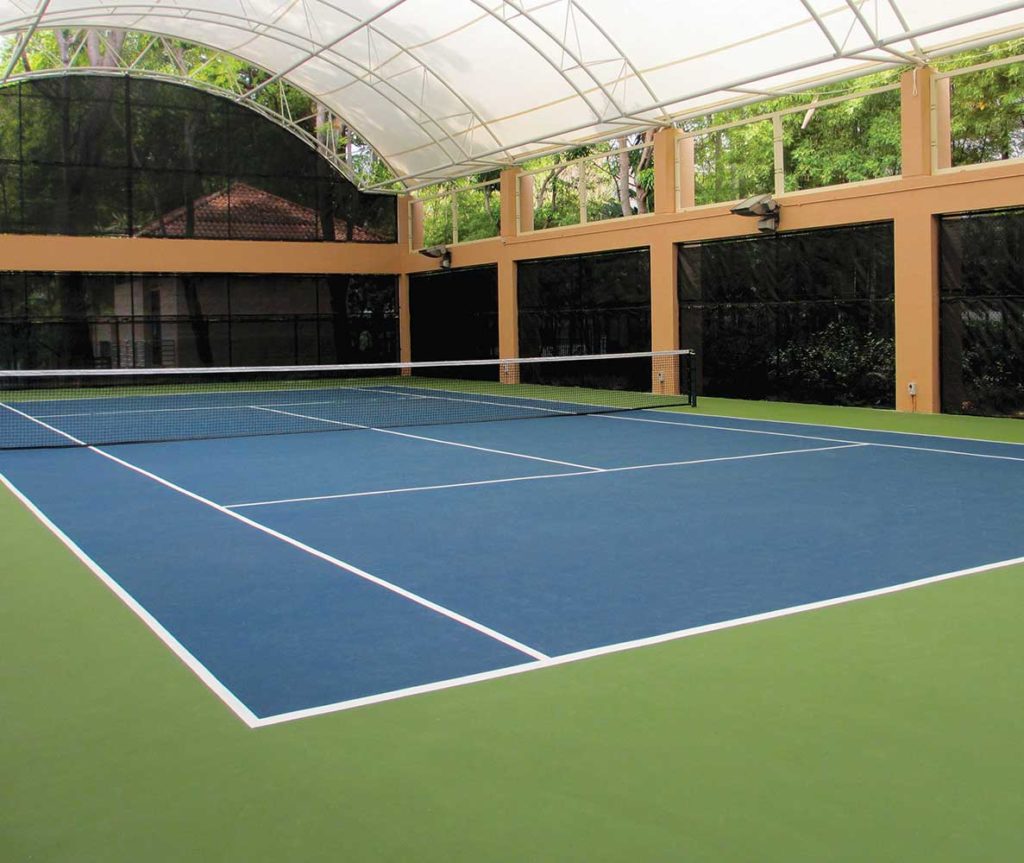 Innovation. Inspiration. Expansion.
Our influence over professional, collegiate and recreational sports has virtually no boundaries. We've strived to improve the quality and safety of play with new technologies that provide professional and amateur athletes with whole new ways to get into the game.
Palette-Pleasing Coatings to Fit Any Size Project
You don't need a big budget to make a big change. Decorative pavement coatings are textured, slip-resistant and come in an assortment of vivid, long-lasting colors.
A More Affordable Way to Revitalize:
Pedestrian Walkways & Bridges

Pathways

Patios

Courtyards

Pool Decks

Golf Paths

Jogging Paths

Parking Lots

Entrances

And more!
We are the ultimate tennis fans. California Sports Surfaces has served as the official surface provider in countless professional tournaments, including every US Open since 1978, the 1996 Atlanta Olympics, 2000 Sydney Olympics, 2004 Athens Olympics, 2008 Beijing Olympics and all corresponding Paralympic games.
Whatever your needs and speeds, our products are fully customizable
One of the fastest growing sports in America is Pickleball, a combination of tennis, badminton, and ping pong. Our gentle, cushioned technology made us a perfect partner for a sport that can be enjoyed by athletes of all ages. We have recently been named the Official Surface of the USA Pickleball Association.
Our state-of-the-art track surface systems are more than just advanced ­— we're miles ahead of our competitors. California Sports Surface track technology uses poly-resin binders to strike the perfect balance between the dynamic response needed for performance and the layered cushioning for athlete safety.
A Proven Leader In State-Of-The-Art Running Tracks
Few sports are more physically punishing than hockey. Agility, power, strength — every factor comes into play in this high-impact game. A durable, low-maintenance surface is required to match the intensity of roller sports. Our developers invented a hi-performance surface made from acrylic polymers that mimics the look and feel of actual ice.
Playgrounds & Recreational Installations
California Sports Surfaces is committed to creating a more colorful space for kids. We offer a variety of decorative textured, slip-resistant surfaces that can be applied over existing asphalt and concrete surfaces. Plus, there's no flaking, peeling or fading from UV light.
NetBall

With passionate fans all around the world, netball is an athletic, dynamic and energetic sport that just about anybody can play. While it's not an Olympic or fully professional sport, netball courts are in demand. Our netball court surfaces have helped improve the quality of the game with colorful, textured colored coatings and 5mm to 8mm cushioned mat surfaces. Our global network of authorized, expert applicators have been fully trained by our California Sports Surfaces team in best practices and have already installed dozens of netball courts worldwide.
To learn more about Our products, contact us or call 978-623-9980 to reach our United States office.
Signature Sports Flooring is now part of ICP'S BUILDING SOLUTIONS GROUP
Signature Sports Flooring provides indoor flooring solutions — including cushioned, liquid applied, and mat systems — that are ideal for use in gym floors, weight rooms, aerobic rooms, multi-purpose, locker rooms, and common areas. Together with the California Sports Surface brands, our portfolio of sports flooring solutions is greater than ever.
About ICP Group
Innovative Chemical Products Group is a leading specialty chemical company engaged in the formulation, manufacturing, and marketing of coatings and adhesives. ICP Group serves the architectural, specialty construction, packaging, printing, and sports surfaces end markets.